About
The company is conveniently located at SunWest Cimarron Center in Las Vegas, Nevada.
Russian Executive Center has been in business since 1998. Initially conceived as a solely translating/interpreting operation, the company in a very short time has grown into a multi-service business, and still adding new services per customer demand. Russian Executive Center is a proud member of Las Vegas Chamber of Commerce and Las Vegas Convention and Visitors Authority vendor.
We have been successfully assisting our customers with attending conventions, expos, business meetings, as well as making arrangements for their visits in Las Vegas. We offer russian-speaking guides for Las Vegas places of interest tours. Our skilled interpreters and guides are experienced in providing a VIP service.
Our translators have an extensive knowledge in court interpretation and translation of legal documents. Among our customers are medical and educational institutions, law firms and courts, entertainment companies, travel agencies, and numerous individuals.
We take pride in everything we do: from translation to notarial acts. We will make every effort to satisfy you with the quality of services rendered.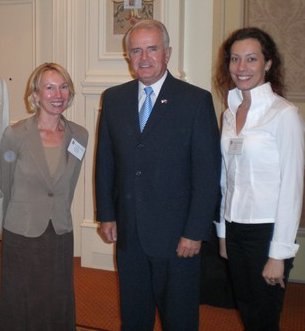 Photo with Jim Gibbons, Nevada governor